So, we're two weeks in and I've currently managed to memorise a whole four street names. So bad was my navigation in the first week, I had to invest in a 4G plan, the cheapest of which cost me close to $50. Justifiable not only for efficient travelling, but, more importantly enabling some serious Tindering on the go. The Truth About Charlie Cards, Boston's equivalent to an Oyster Card, is that more often that not, it's completely unneeded. One is able to walk easily to everywhere they'd need to go in the city. I still don't understand how the roads work, but have taken nicely to Jaywalking since I haven't seen anyone arrested for doing it yet.
One of the common points I'd heard others talk about regarding Americans is how ready they are to talk about how they identify as Irish or Scottish due to an ancestor in the late 1700s. This, as you can imagine is rife at a company dealing in family history, but the depth of knowledge people have about their own and other's ancestry is truly astounding. People have been able to tie their ancestry into nobles and from that tie into a royal line, which is basically guaranteed to link you into some huge names like big Robert the Bruce or William The Conqueror.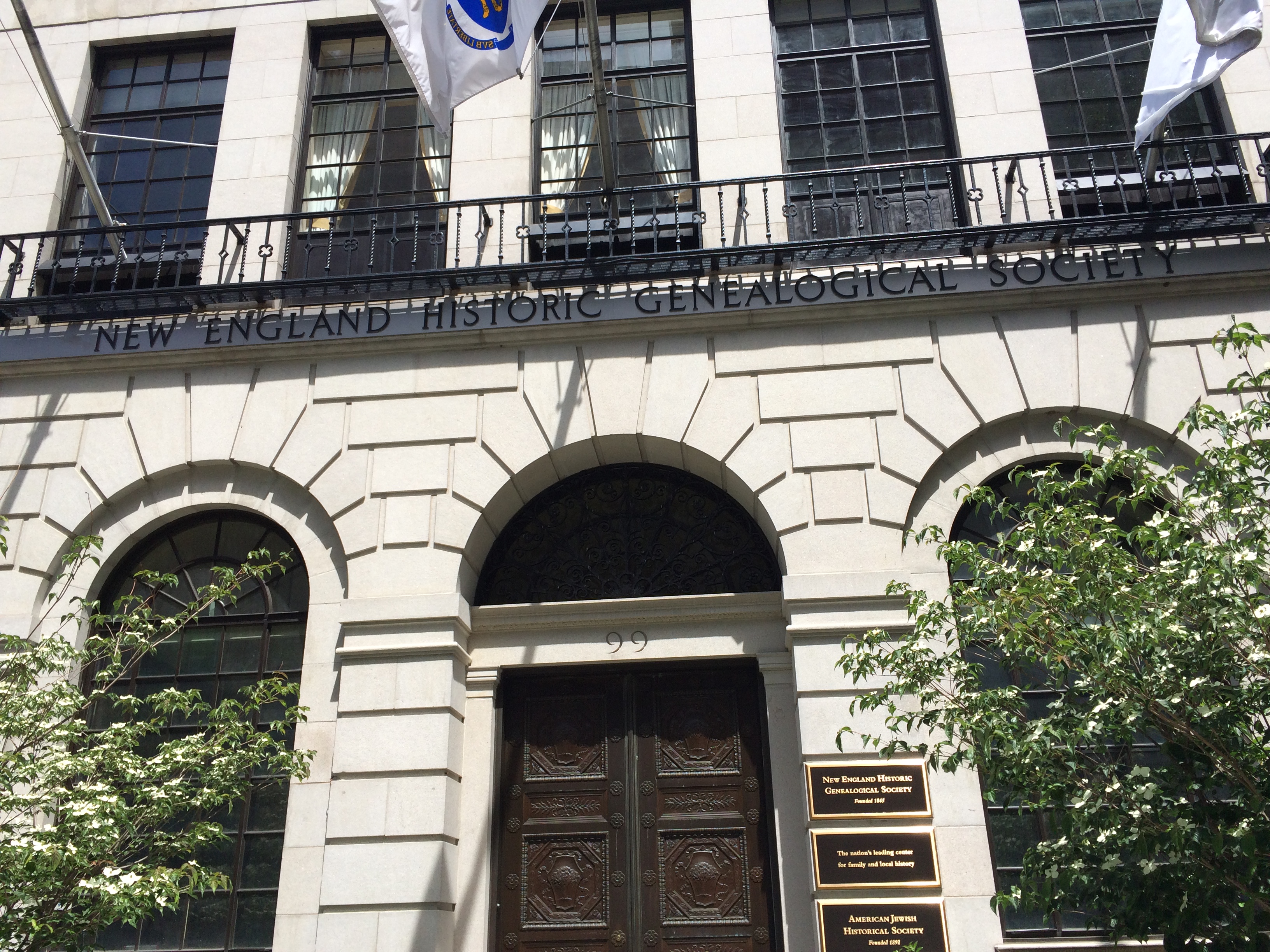 At NEHGS, you can even eat your pieces in the little garden
The last fortnight with NEHGS has been amazing. I've had an extremely varied workload and everyone there has made sure the technical department has got plenty to do. The department I work in predominantly deals with outputting digital content on the site, but has strong links with other departments, sharing a lot of the workload on different projects. The work they had me doing in the first week was on the front end of the site, writing and uploading HTML forms through their content management systems (CMS), Ektron. The website utilises a responsive design framework called Bootstrap which enables the site to work well across all devices, regardless of their screen size. Much of the site's users are people who are retired, so any changes to the site in terms of design, generally have to be incremental and all information has to be easily accessible.
Over lunch, I get to explore both Newbury and Boylston Street (yes, 50% of my street repertoire). Newbury, the street NEHGS is situated on is composed of 19th century brownstones, featuring a lot of very high end shops, restaurants and infinite sushi. The cupcake shop next to my work also has a daily buzzword, posted to Twitter every morning, which results in a free cupcake. Boylston generally has a lot more food places and as well as some department stores. Each one was scoured significantly for a duvet, which, apparently they don't use in America. I did however find a Red Sox snapback to fit in with the local rogues.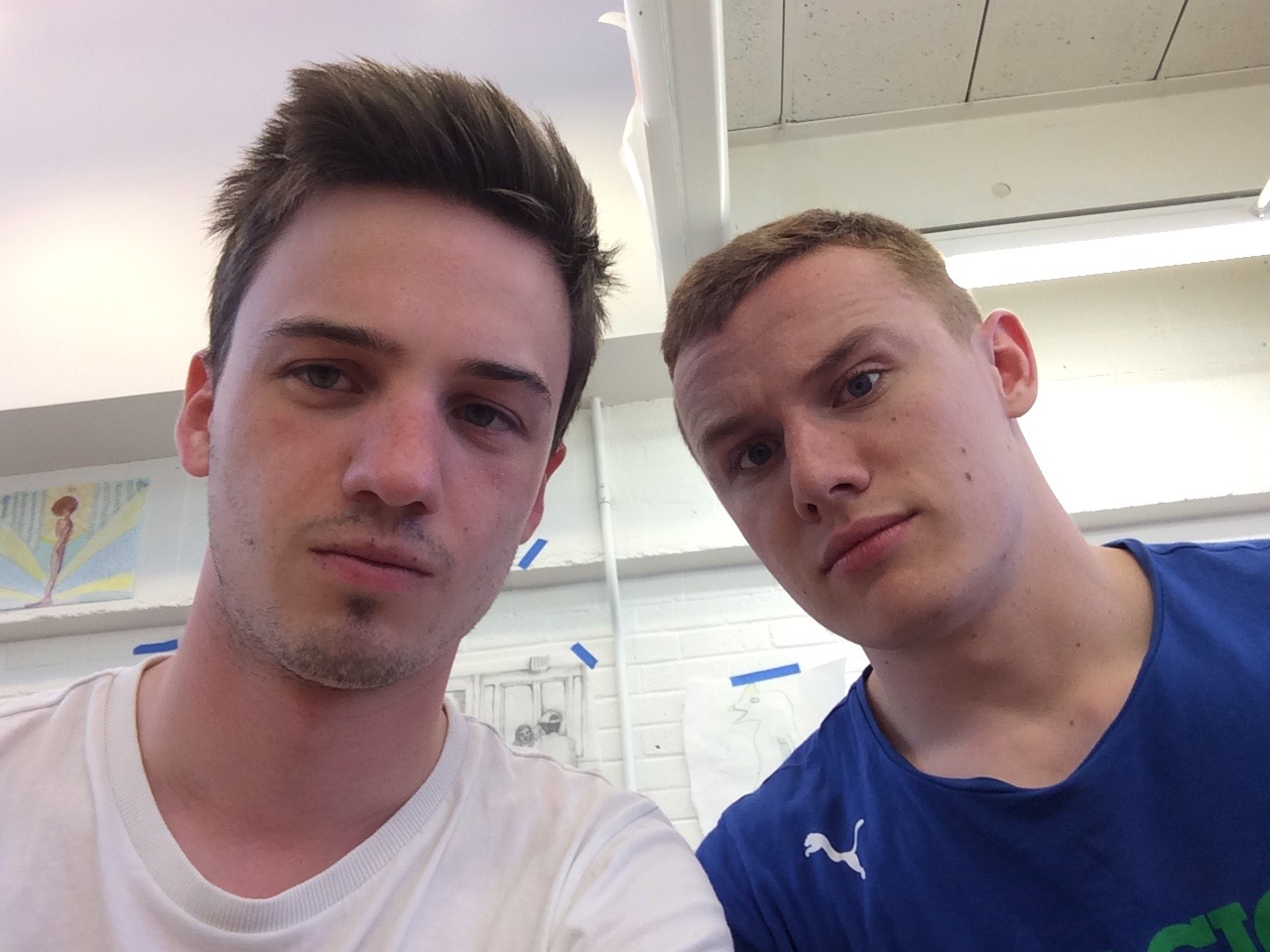 Pre coffee snap with the big man
The U.S. also has a distinct lack of kettles for making cups of tea. One has to resort to the caffeine laced English Breakfast capsules for coffee machines. My 150 of the very finest Scottish Breakfast teabags were a waste of luggage space. I considered throwing them all in the harbour, but some disgruntled locals apparently already did that ages ago. We went to see Jurassic World in one of the evenings too. Back home, the cinema is a far more passive experience, one sits down, watches the film and goes home. Here however, people are shouting at the screen, cheering while knocking back their fried chicken, all while the clearly well informed gentleman next to me, convinced his date that dinosaurs did in fact not exist and were a conspiracy cooked up by the CIA.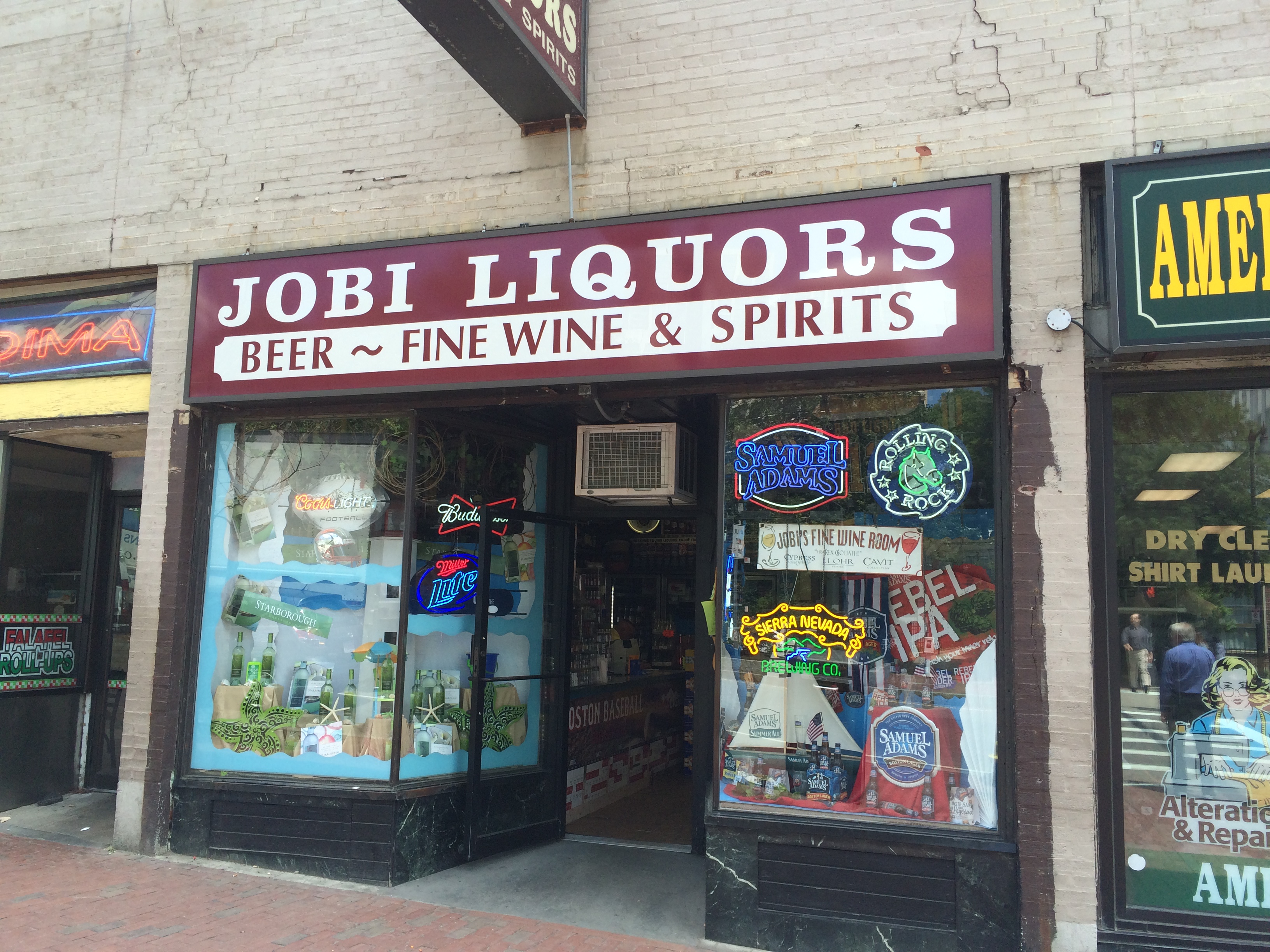 It is what it is
I'm currently working on an audit which encapsulates a high level view of the company's digital properties. The company is changing web content vendor and the current one has currently left a significant lack of documentation on both internal workings of the system and how staff interact with the system. This has allowed me to shadow team members, getting to grips with how they do things manually with the system, giving me a list of functional requirements which can be implemented to enable more automation and ensure better software interaction between systems. On the Friday, I ended up at a Street Party in Cambridge with some of the girls from work. It was like being in a massive outdoor rave but there was kids running around with lightsabers. This was an experience you just wouldn't get back home. Someone would've died from a dodgy swedger several years back and the event would've been disallowed thereafter.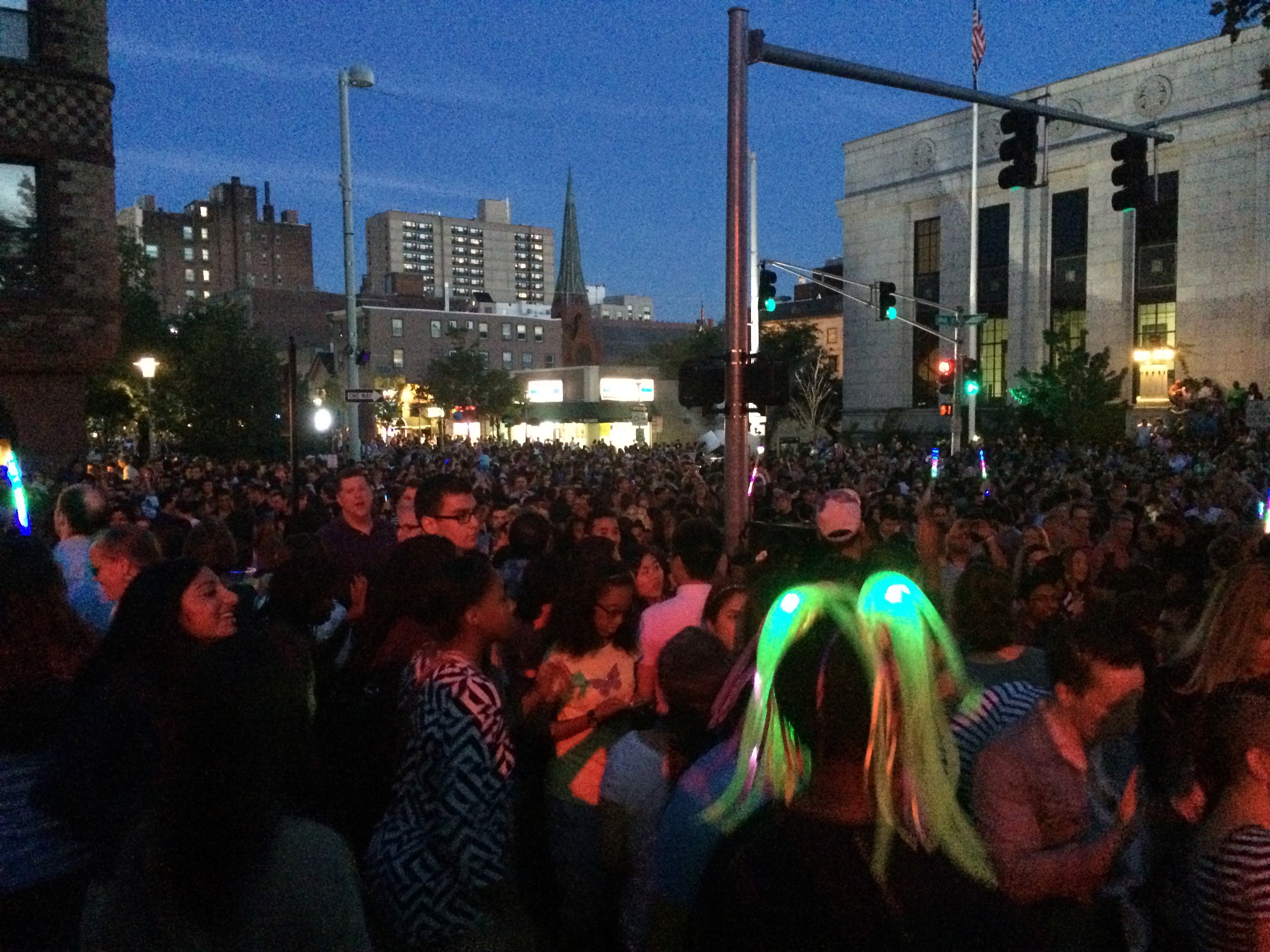 Basically Cav on a Thursday night
The day after was a distinctly slow start if I can remember correctly. After a wee rest on the other two boys bedroom floor, the Saltire Boys went to back to what remained of Cambridge. Fresh as we'd ever been, we explored Harvard's campus, visiting different schools within the University and checking out their Halls of Residence. It didn't quite compare to our diggs at Northeastern University, with our 24 hour man on the door, constantly providing endless chat.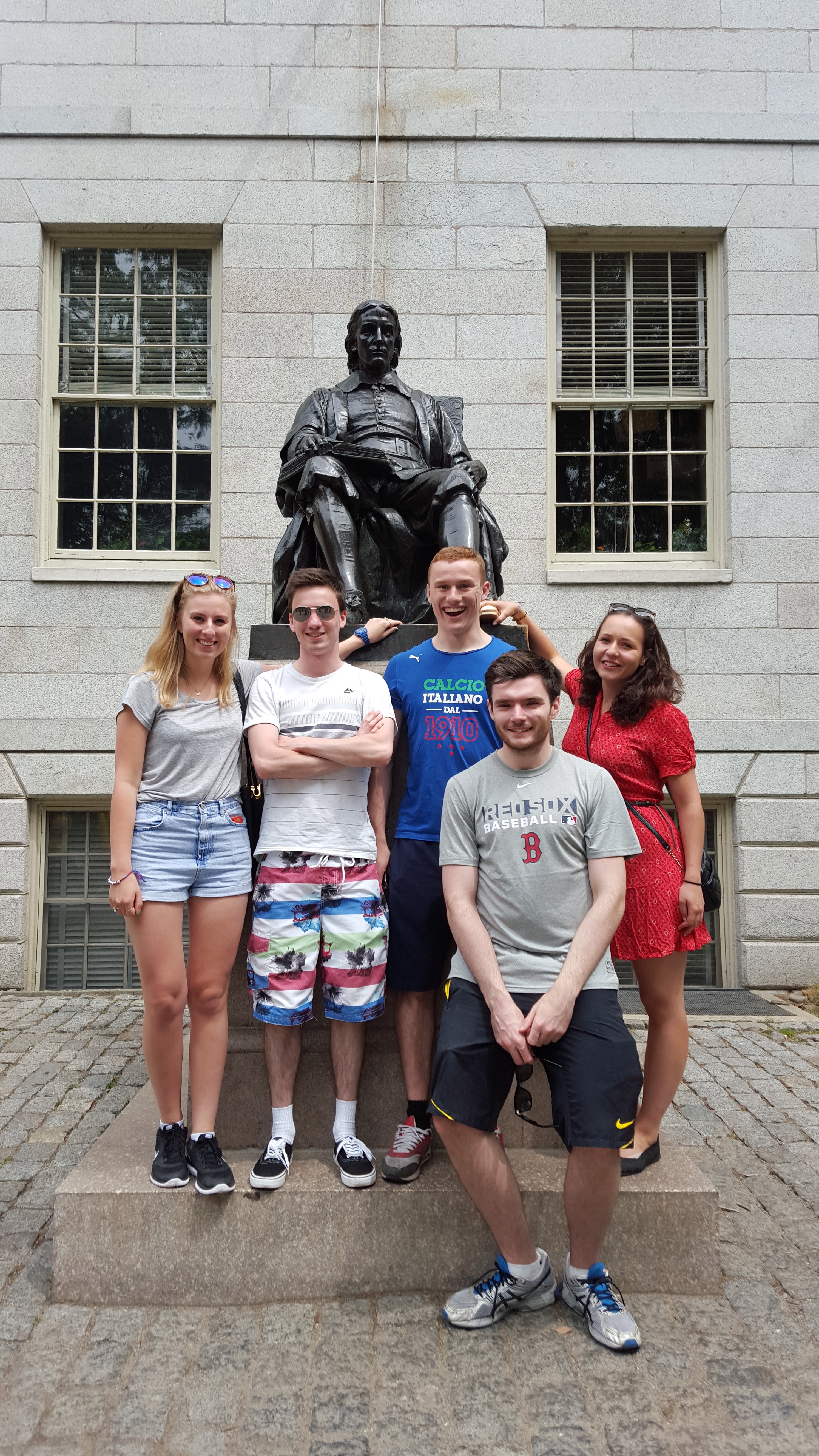 When big John Harvard met the Saltire Boys #hahvahd #friendship #memories
As of tomorrow, we get our team numbers increased by two, along with a cheeky day aff on the on the 3rd - a national holiday Liv doesn't get - to help us prepare for the chaos which will undoubtably ensue on the 4th...