This was written for the benefit of anyone travelling to Turkey to get around UK/Schengen travel restrictions into the US.
Instant Regrets
I came back to Scotland in early March for a wedding and got stuck here due to the US travel ban on non-immigrants present in UK/Ireland/Schengen in the last 14 days. Despite living and working in Boston MA on an H-1B, I was essentially locked out as it's a non-immigrant visa. I'm fortunate enough to work remote, so for the last 4 months I've straddled both Boston and Edinburgh rents which naturally isn't pretty on the old bank account.
Non Immigrant Visas Executive Order
I hawkishly followed any details on Donald's non-immigrant ban for about 2 months. There was chatter from immigration lawyers that any potential ban could include existing visas. This could've resulted in me being banned from the US until 2021. I was naturally very hesitant to travel to Mexico - the only country that were open at the time - on the off chance my visa class would be unilaterally banned while I was there.
Getting out of Schengen
When it was announced the Visa ban only included new non-immigrant visas, I immediately bought a flight to Istanbul. Croatia, Bulgaria, Romania & Serbia were all options, but most were a nightmare to get to from Edinburgh. To Boston without a Schengen layover, I'd likely had to have flown via Istanbul anyway. I decided this was safer than Mexico Covid wise. A couple of Caribbean countries like Aruba were given some thought, but Istanbul was just easier logistically and financially.
Edinburgh Airport
Edinburgh Airport was dead. There was a fairly busy flight to Poland, but beyond that, it was a ghost town. No restaurants were open but WHSmith was, so thank goodness for that.

British Airways - Edinburgh (EDI) to London (LHR) - 3rd July
British Airways scrapped priority boarding and filled from the back of the plane in 3 groupings. Nobody checked my ID for the domestic flight and all tickets where self scanned.
The flight was fairly quiet. I had the 3 chairs to myself. Photo above was of this flight.
They gave us a bag with crisps and a bottle of water and pretzels.

We emptied out in rows of 5. Everyone was super compliant. Was all round pretty good in terms of social distancing.
Heathrow Airport

Heathrow was much busier. I would say it was actually pretty much like normal in terms of people. There were NO restaurants open and the only place that served food was Leon, a chicken and rice box takeaway. The queue was naturally enormous, wrapping around the corner. It took about 40 minutes in all and people actually social distanced in it.
At the terminal, they made sure my passport name matched my ticket but didn't ask to see my face under the mask. First time I've had nobody remark about how much I've grown up since my passport photo.
Turkish Airlines - London (LHR) to Istanbul (IST) - 3rd July
So Turkish Airlines have implemented this policy without it being mentioned in their check-in process which is that they're not using the overhead bins. At the terminal, they saw my carry on and told me to check it with them there for free.
When you board the plane they give you a the party bag of the future; hand sanitiser, 2 surgical masks and 2 antibacterial wipes.
As I took my seat, it dawned on me that the flight was in fact full. It also became very apparent that nobody really gave a shit about social distancing. I was in amongst a group of Russians dispersed throughout different rows who would be talking to the rows behind and infront of them, often with their masks off as they were also eating.
A bag of food was given; a sandwich with cheese with a couple of peppers on it. Things were specified like "don't remove your mask if someone in your row has theirs removed while eating", but nobody cared about this as they hammered into their marble cake.
They also handed out a form to fill in. They give out pens, but I'd recommend bringing one for obvious reasons. It's pretty basic stuff; literally a contact form for them to call you if the whole flight got infected. Have your Turkish address ready and the flight details. They want to know what countries you've been in during the last 14 days and if you've had a fever or a cough.
The best part though was when we landed. They announced over the intercom that we would be disembarked by calling out rows. As soon as the no seatbelts sign was switched off though, everyone just got up and scrambled for the door. Was an absolute shitshow. They didn't even announce rows despite saying they'd do that.
Overall, I'd say they like they were happy to say stuff and handout those bags, but none of the social distancing stuff is enforced and the bulk of passengers despite wearing masks, give zero shits.

Istanbul Airport (arrival)
This airport was massive and pretty empty. There was no social distancing in the border queue despite big circles being drawn on he ground. I kept my distance from the person in front, but the person behind me was basically trying to grind during whole ordeal (about 15 mins in total). It shaved off a couple of milliseconds off their waiting I'm sure.

When I arrived at passport control, the border guard didn't even ask me anything. Just took passport and form gave me a stamp. Didn't even ask for me to pull my mask down. Second time I've had nobody remark about how much I've grown up since my passport photo.
I opted for a the Shuttle buss over a taxi because I live dangerously and am cheap. My thought process was if it looked super busy, I'd bail and get a taxi instead. It was 25 TL and you can buy it in advance on here - https://hava.ist/en. You can get their app and pay using the QR code.
The bus was pretty quiet (I had a whole row) but I'd guess they'd fill it if they could. There's ATMs in the floor above the bus stand if you need cash for a taxi.
Airbnb
I arrived finally at the airbnb about 2AM. Host insisted on showing me around first. I was so burned out, I relented. He told me he had forgot English because it's been 4 months since they had any tourists. I've never felt so wanted by anyone.
14 Day Quarantine

Istanbul was terrific; most people wearing masks and most things were open. I probably did more tourist things than I should've given the pandemic, but things were fairly quiet and there very few times I was unable to social distance. A lot of the restaurants were empty and actually had outdoor seating. I'd highly recommend as a place to quarantine. In the end ended up buying a 26 hour flight to Boston via Doha, Qatar with a nice 8 hour layover.
Istanbul Airport (departure)
I couldn't check in online as they couldn't pull up an ESTA on my passport number (I don't need one because I have an actual visa) so went to the airport via the "Havaist" bus. I went around midday and the bus was pretty empty. The airport is huge and fairly sparse. In the queue asked if I was going to US and put me in a separate queue. Was asked if what countries I'd spent the last 14 days in and they inspected my Turkey passport stamp before handing me my boarding passes. There were very few restaurants open after security. The ones that were were always quite expensive ($20+ for something equivalent to McDonalds).

Qatar Airways - Istanbul (IST) to Doha (DOH) - 19th July
Just prior to boarding they handed everyone a face visor and said that it and the mask are required for the flight. On the flight a lot of people didn't comply, especially with the visor part. The flight was pretty empty and fairly uneventful.
Doha Airport (layover)

I arrived in Doha for an 8 hour layover. You have to go through security again for the transit. I found an area however that was completely deserted and just stayed there the whole time. I had to go through security again right before the Boston flight board. This means you can't take water onto the flight with you which is wild. It was again a flight in which the mask and face visor was compulsory.
Qatar Airways - Doha (DOH) - Boston (BOS) - 20th July
The Boston flight was pretty dead. I had a whole row to myself to sleep. Right before we landed they handed out the below health declaration form.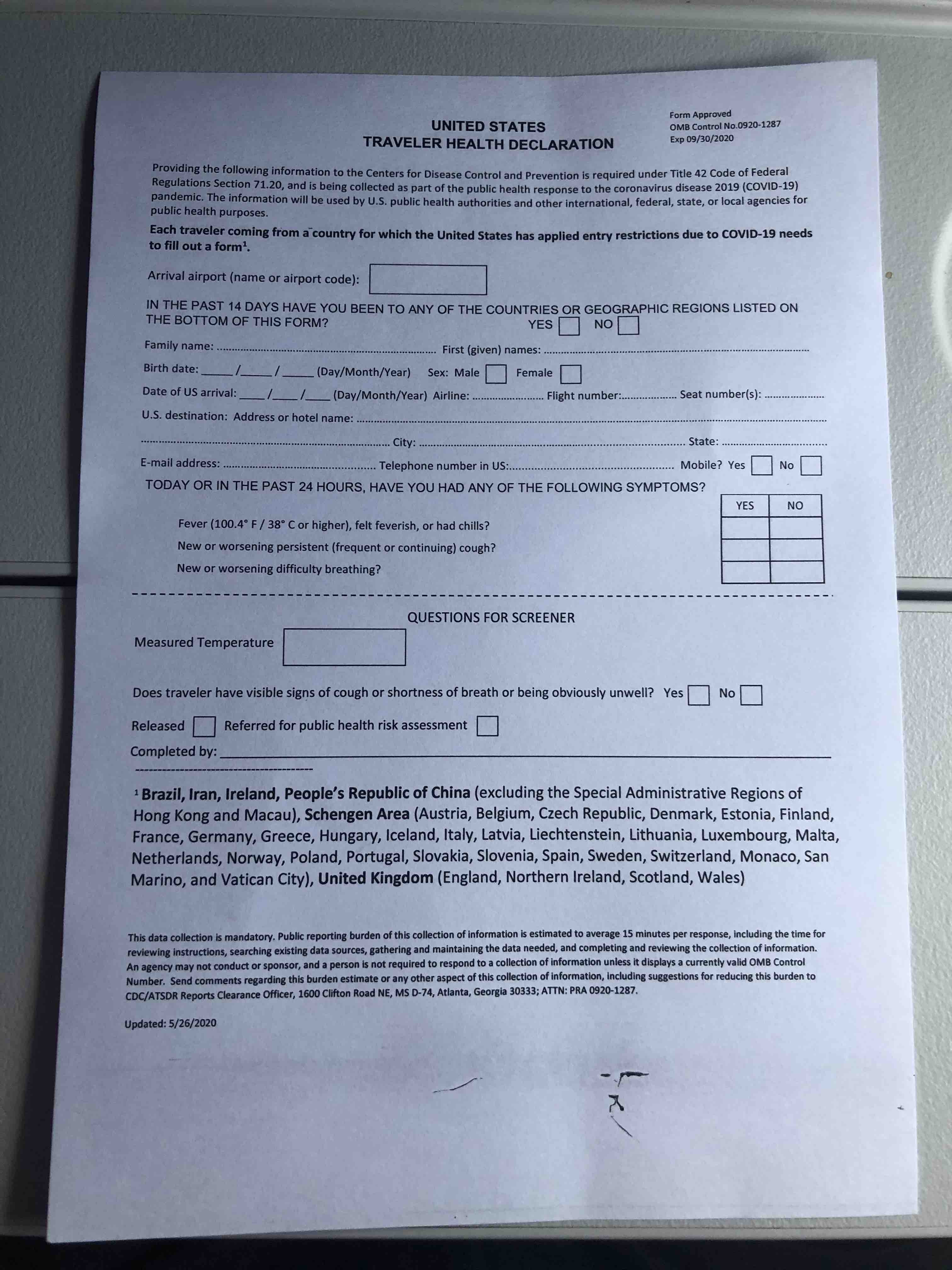 US Immigration - 20th July
Immigration at Boston was surprising easy also. Had to pull down the mask and visor for the photo and still do the fingerprint scan (didn't look like they were cleaning it between people so bring hand sanitiser). The only question he asked was "You're staying at this address yeah?". Nobody looked at my health declaration form.
I Ubered home which was obviously a masked affair and got in to my apartment. After nearly 5 months I finally made it back!